Kingsford Waterbay
District 19 - 50 Upper Serangoon View - Condo View on map
Located in District 19, right beside Punggol Park, Kingsford Waterbay is a large-scale development that spans over 293,807 square feet. The 99-year leasehold condominium will have 9 blocks of 16 storeys each; the total number of units within the condominium stands at 1165. Of these, 1157 are apartment units of varying layouts, 6 Strata Terraces and 2 Strata Semi-Detached Houses. There will also be 6 retail shops within the development. 

City living can sometimes be exhausting; this makes your home's atmosphere even more important, because it is a much-welcomed respite at the end of a busy day. Indeed, the tranquil, relaxing environment of Kingsford Waterbay serves to nourish and rejuvenate the spirit! With lush surroundings and a beautiful waterfront view, nature provides the much needed getaway from the sensory stressors of the city. 

In addition, residents can relax or have a good workout session by using the condominium's facilities, which include swimming pools, spa creek, outdoor and indoor gym and many more, including its many themed gardens.

The development's close proximity to private clinics, dentists, schools and a supermarket means that residents are a stone's throw away from a vide array of amenities. In addition, the presence of six retail shops on the grounds of Kingsford Waterbay offers residents convenient retail options at their doorstep. 

The Central Business District (CBD) and Orchard Road shopping belt are both an approximate 20 minute drive away; the nearest school, Serangoon Secondary School, is two minutes' away on foot. There are a handful of schools within easy commuting distance. 

Without a doubt, with all its proximity to amenities and a myriad of facilities, Kingsford Waterbay is a great option for singles and families alike!
Read More 
Overview
| | |
| --- | --- |
| Completed At: | 2018 (2 years) |
| Tenure: | 99 years |
| Project Size: | Large (1165 units) |
Nearest Schools
Serangoon Secondary School
2 min (124 m)
Chij Our Lady Of The Nativity
14 min
Holy Innocents' High School
15 min
Photo Gallery
Active Listings
As of Apr 04, 2020, there are a total of 173 active listings for rent and sale at Kingsford Waterbay.
What's nearby Kingsford Waterbay?
Shopping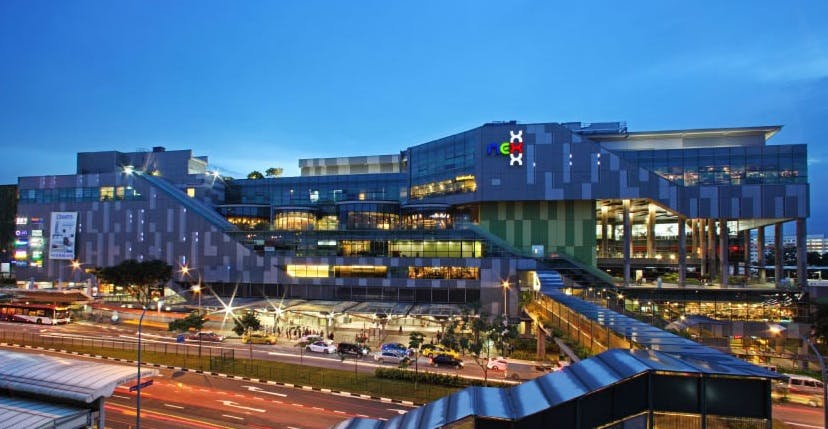 If residents are looking for a range of products and services beyond what is available at the retail shops at Kingsford Waterbay, they can venture out to the surrounding neighbourhood. There are many stores and boutique shops in the area, in addition to a supermarket.

There are also 4 shopping malls within a 10 minutes' drive of Kingsford Waterbay, and further afield, NEX, which is 15 minutes' drive away. The nearest mall is Hougang Mall; virtually anything you need can be found there, from shoes to electronics to a hair dresser. Common fashion brands such as Cotton On, Giordana, Bossini and Hush Puppies can also be found at Hougang Mall, let alone the other malls, allowing residents to comfortably shop at suburban malls without having to travel to Orchard Road.
Since it possesses such a wide variety of shops, Kingsford Waterbay residents will find their daily needs satisfied.
Eats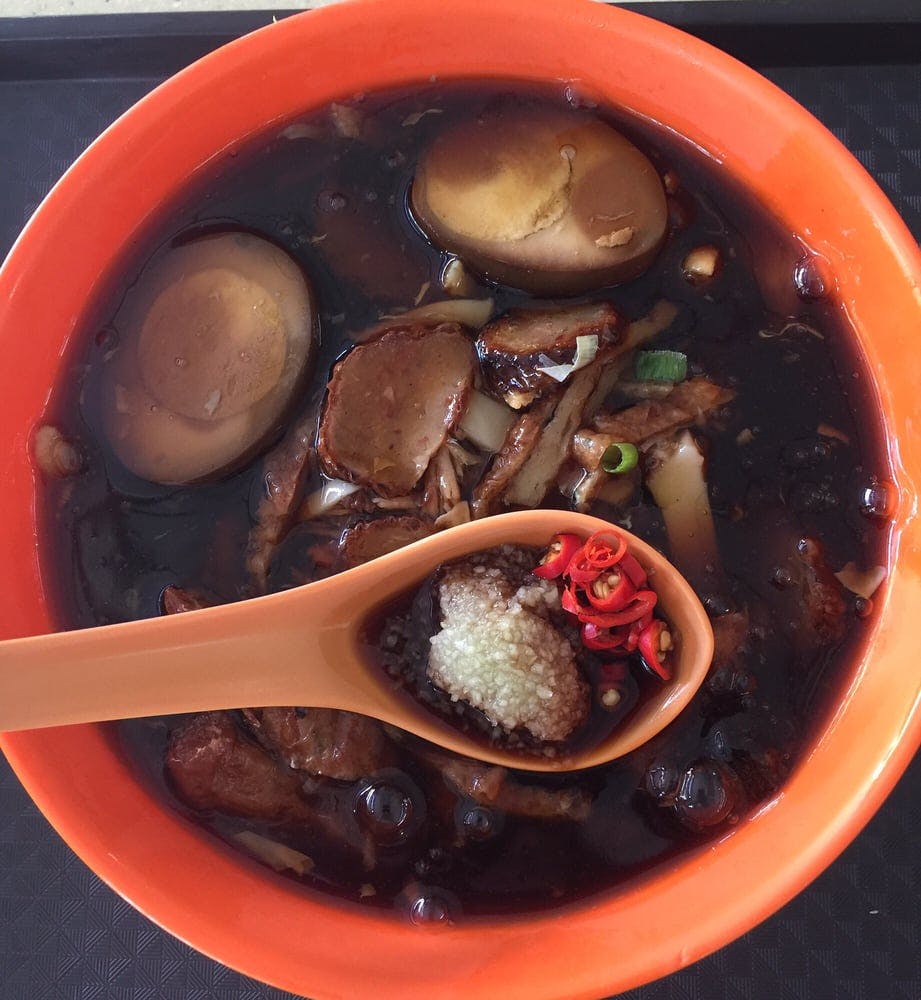 There is an NTUC Foodfare located just a few minutes away from Kingsford Waterbay. This coffeeshop would be a great destination for residents who just want a quick meal and don't wish to travel far. Next to it is Mingle Mangle, an ice cream shop for those days when you just want to treat yourself.
There are many good eats to be found in Hougang, though people may claim the opposite. For classic, affordable, delicious hawker fare, head to Lor Ah Soo Lor Mee, at #02-51, 105 Hougang Ave 1, or Soon Soon Teochew Porridge, at 13 Simon Rd.
Alternatively, drop by Lola's Cafe at 5 Simon Road or Hatter Street at Block 212 Hougang, Street 21 for a taste of the hipster life. Have a cup of coffee, or some waffles and ice cream, while you're at it!
Schools
Parents with school-going children will be glad to know that there are various schools within easy commuting distance of Kingsford Waterbay. These include schools such as Holy Innocents' Primary and High School, Serangoon Secondary School, Montfort International and Secondary School, and tertiary institution Serangoon Junior College. 
Nature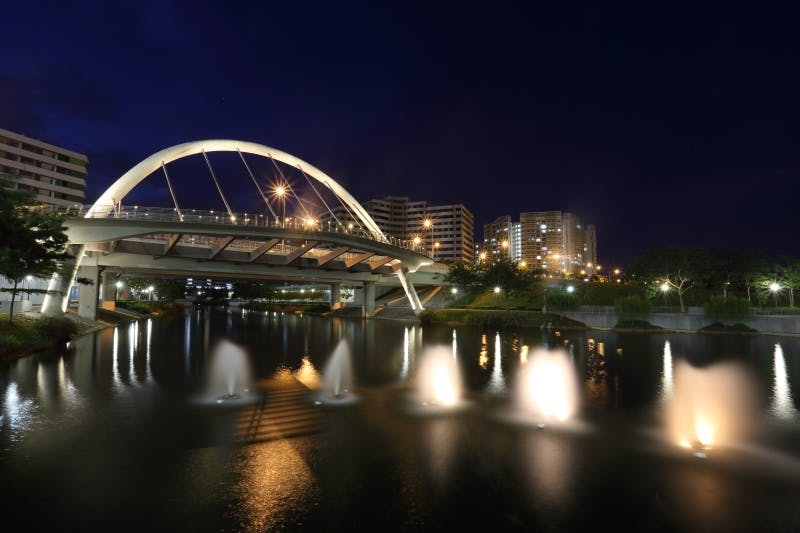 One of the selling points of Kingsford Waterbay is its proximity to nature; Punggol Park, Punggol Waterway Park and Hougang Neighbourhood Park are nearby. The development overlooks Serangoon River and boasts awe-inspiring river views.
Medical
Medical services are easily accessible by residents of Kingsford Waterbay. Not only are there lots of General Practitioners (GPs) and dental clinics nearby, in 2018, Sengkang General Hospital and Sengkang Community Hospital are both expected to begin operations, which coincides with the time that the development is slated to be completed. 


Explore the neighbourhood
Taxi
Public Transport
Driving
Add locations you travel to frequently to calculate travel time
Changi Airport
2 Transfers
Floor Plans
1
1,625 sqft / 150 sqm
3 Bed - 2 Bath
1a
1,625 sqft / 150 sqm
3 Bed - 2 Bath
2
1,593 sqft / 147 sqm
3 Bed - 2 Bath
3
1,948 sqft / 180 sqm
4 Bed - 3 Bath
A1
484 sqft / 44 sqm
1 Bed - 1 Bath
A1P
484 sqft / 44 sqm
1 Bed - 1 Bath
A1PH
689 sqft / 64 sqm
1 Bed - 1 Bath
A1a
484 sqft / 44 sqm
1 Bed - 1 Bath
A1aP
484 sqft / 44 sqm
1 Bed - 1 Bath
A1aPH
678 sqft / 62 sqm
1 Bed - 1 Bath
A1b
474 sqft / 44 sqm
1 Bed - 1 Bath
A1bP
474 sqft / 44 sqm
1 Bed - 1 Bath
A1bPH
657 sqft / 61 sqm
1 Bed - 1 Bath
B1
635 sqft / 58 sqm
2 Bed - 1 Bath
B1P
635 sqft / 58 sqm
2 Bed - 1 Bath
B1PH
840 sqft / 78 sqm
2 Bed - 1 Bath
B1a
657 sqft / 61 sqm
2 Bed - 1 Bath
B1aP
657 sqft / 61 sqm
2 Bed - 1 Bath
B1aPH
872 sqft / 81 sqm
2 Bed - 1 Bath
B1b
614 sqft / 57 sqm
2 Bed - 1 Bath
B1bP
614 sqft / 57 sqm
2 Bed - 1 Bath
B1bPH
829 sqft / 77 sqm
2 Bed - 1 Bath
B1c
624 sqft / 57 sqm
2 Bed - 1 Bath
B1cP
624 sqft / 57 sqm
2 Bed - 1 Bath
B1cPH
850 sqft / 78 sqm
2 Bed - 1 Bath
B2
678 sqft / 62 sqm
2 Bed - 2 Bath
B2P
678 sqft / 62 sqm
2 Bed - 2 Bath
B2PH
840 sqft / 78 sqm
2 Bed - 2 Bath
B2a
689 sqft / 64 sqm
2 Bed - 2 Bath
B2aP
689 sqft / 64 sqm
2 Bed - 2 Bath
B2aPH
861 sqft / 79 sqm
2 Bed - 2 Bath
B2b
710 sqft / 65 sqm
2 Bed - 2 Bath
B2bP
710 sqft / 65 sqm
2 Bed - 2 Bath
B2bPH
915 sqft / 85 sqm
2 Bed - 2 Bath
B2c
721 sqft / 66 sqm
2 Bed - 2 Bath
B2cP
721 sqft / 66 sqm
2 Bed - 2 Bath
B2cPH
926 sqft / 86 sqm
2 Bed - 2 Bath
B2d
775 sqft / 71 sqm
2 Bed - 2 Bath
B2dP
775 sqft / 71 sqm
2 Bed - 2 Bath
C1
850 sqft / 78 sqm
3 Bed - 2 Bath
C1P
850 sqft / 78 sqm
3 Bed - 2 Bath
C1PH
1,066 sqft / 99 sqm
3 Bed - 2 Bath
C1a
850 sqft / 78 sqm
3 Bed - 2 Bath
C1aP
850 sqft / 78 sqm
3 Bed - 2 Bath
C1aPH
1,066 sqft / 99 sqm
3 Bed - 2 Bath
C1b
850 sqft / 78 sqm
3 Bed - 2 Bath
C1bP
850 sqft / 78 sqm
3 Bed - 2 Bath
C1bPH
1,066 sqft / 99 sqm
3 Bed - 2 Bath
C1c
850 sqft / 78 sqm
3 Bed - 2 Bath
C1cP
850 sqft / 78 sqm
3 Bed - 2 Bath
C1cPH
1,066 sqft / 99 sqm
3 Bed - 2 Bath
C1d
861 sqft / 79 sqm
3 Bed - 2 Bath
C1dP
861 sqft / 79 sqm
3 Bed - 2 Bath
C1dPH
1,076 sqft / 99 sqm
3 Bed - 2 Bath
C2
883 sqft / 82 sqm
3 Bed - 2 Bath
C2P
883 sqft / 82 sqm
3 Bed - 2 Bath
C2PH
1,098 sqft / 102 sqm
3 Bed - 2 Bath
C2a
915 sqft / 85 sqm
3 Bed - 2 Bath
C2aPH
1,141 sqft / 106 sqm
3 Bed - 2 Bath
C2b
893 sqft / 82 sqm
3 Bed - 2 Bath
C2bP
893 sqft / 82 sqm
3 Bed - 2 Bath
C2bPH
1,109 sqft / 103 sqm
3 Bed - 2 Bath
C2c
883 sqft / 82 sqm
3 Bed - 2 Bath
C2cP
883 sqft / 82 sqm
3 Bed - 2 Bath
C2cPH
1,098 sqft / 102 sqm
3 Bed - 2 Bath
C3
1,001 sqft / 92 sqm
3 Bed - 2 Bath
C3P
1,001 sqft / 92 sqm
3 Bed - 2 Bath
C3PH
1,216 sqft / 112 sqm
3 Bed - 2 Bath
C3a
1,023 sqft / 95 sqm
3 Bed - 2 Bath
C3aP
1,023 sqft / 95 sqm
3 Bed - 2 Bath
C3aPH
1,249 sqft / 116 sqm
3 Bed - 2 Bath
C3b
1,033 sqft / 95 sqm
3 Bed - 2 Bath
C3bPH
1,249 sqft / 116 sqm
3 Bed - 2 Bath
C3c
1,044 sqft / 96 sqm
3 Bed - 2 Bath
C3cPH
1,195 sqft / 111 sqm
3 Bed - 2 Bath
C3d
980 sqft / 91 sqm
3 Bed - 2 Bath
C3dP
980 sqft / 91 sqm
3 Bed - 2 Bath
C3e
980 sqft / 91 sqm
3 Bed - 2 Bath
C3eP
980 sqft / 91 sqm
3 Bed - 2 Bath
C4
980 sqft / 91 sqm
3 Bed - 2 Bath
C4PH
1,184 sqft / 109 sqm
3 Bed - 2 Bath
C4a
958 sqft / 89 sqm
3 Bed - 2 Bath
C4aP
958 sqft / 89 sqm
3 Bed - 2 Bath
C4aPH
1,141 sqft / 106 sqm
3 Bed - 2 Bath
D1
1,033 sqft / 95 sqm
4 Bed - 2 Bath
D1PH
1,259 sqft / 116 sqm
4 Bed - 2 Bath
D1a
1,033 sqft / 95 sqm
4 Bed - 2 Bath
D1aP
1,033 sqft / 95 sqm
4 Bed - 2 Bath
D1aPH
1,259 sqft / 116 sqm
4 Bed - 2 Bath
D1b
980 sqft / 91 sqm
4 Bed - 2 Bath
D1bP
980 sqft / 91 sqm
4 Bed - 2 Bath
D2
1,109 sqft / 103 sqm
4 Bed - 2 Bath
D2P
1,109 sqft / 103 sqm
4 Bed - 2 Bath
D2PH
1,335 sqft / 124 sqm
4 Bed - 2 Bath
D2a
1,109 sqft / 103 sqm
4 Bed - 2 Bath
D2aPH
1,335 sqft / 124 sqm
4 Bed - 2 Bath
D2b
1,055 sqft / 98 sqm
4 Bed - 2 Bath
D2bP
1,055 sqft / 98 sqm
4 Bed - 2 Bath
D3
1,216 sqft / 112 sqm
4 Bed - 3 Bath
D3P
1,216 sqft / 112 sqm
4 Bed - 3 Bath
D3PH
1,442 sqft / 133 sqm
4 Bed - 3 Bath
D3a
1,195 sqft / 111 sqm
4 Bed - 3 Bath
D3aP
1,195 sqft / 111 sqm
4 Bed - 3 Bath
D3aPH
1,421 sqft / 132 sqm
4 Bed - 3 Bath
E1
1,356 sqft / 125 sqm
5 Bed - 3 Bath
E1PH
1,593 sqft / 147 sqm
5 Bed - 3 Bath
E1a
1,302 sqft / 120 sqm
5 Bed - 3 Bath
E1aP
1,302 sqft / 120 sqm
5 Bed - 3 Bath